On Sunday, March 4th, 2018, Tinseltown's brightest stars will walk the red carpet along Hollywood Boulevard, make their way into their seats inside the Kodak Theatre and prepare for the most important night in the movie calendar – the Oscars.
The road to the Oscars is already underway and with the majority of key festivals over for the year and the Indie Spirit Award Nominations (which have been a more recent successful predictor for Best Picture) recently announced,  we are beginning to get a picture of potential contenders for Academy nods.
After the infamous '2017 Best Picture' scandal (we will never forget…) and with the world still reeling after the high profile allegations of sexual abuse against some of Hollywood's elite, we expect this event to have a different tone, to say the least.
Personally, I hope the Academy uses this occasion as a tool for celebrating the wonderful work that has come out of Hollywood and the film industry this year, rather than exposing further media spotlight on the negative stories that have emerged in 2017.
I have been immersing myself in film over the last few months and have started to draw out a few of my predictions for award nominations.
Note: I have only included movies I have personally seen in these predictions. 
---
Call Me By Your Name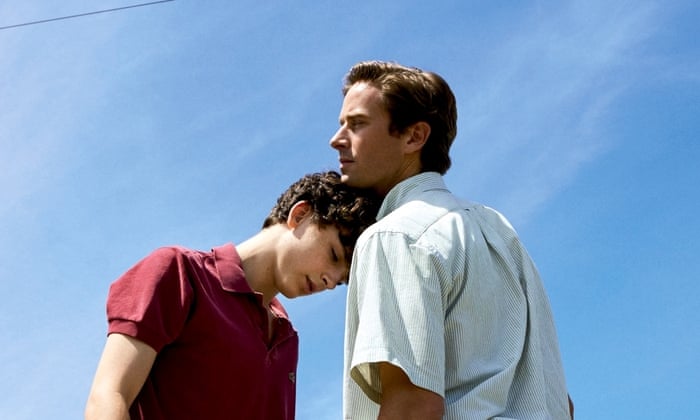 Predicted Nominations:
Best Picture; Best Director; Best Adapted Screenplay; Best Cinematography; Best Actor; Best Supporting Actor, Best Supporting Actor
Starting the predictions, is my personal favourite film of the year, Call Me By Your Name. Based on the popular novel of the same title, this adaptation is the story of lazy summer days and the feeling of falling in love for the first time.
It is 1983, and Elio (magnificently played by young star Timothée Chalamet) is spending the summer with his academic parents in their villa in Northern Italy. His professor father (Michael Stuhlbarg), recruits 25-year-old Oliver (Armie Hammer), a research intern from his university to join the family. A relationship between Elio and Oliver slowly begins to develop and the teenager's summer becomes a period of personal discovery and life-changing first love.
The film is beautifully shot and expertly captures the essence of both the era and the Italian landscape. Director, Luca Guadagnino successfully transports the audience into the intimate narrative without feeling intrusive. There is a sensitive honesty to this film and the ever so gradual development of Elio and Oliver's relationship never feels ostentatious. Guadagnino's representation of 'first love' is the most sincere I have ever seen on screen.
Credit has to be given to the actors in this piece, all of whom are sensational. Armie Hammer is perfectly cast as the charming, ideal American young-man, Oliver, and Michael Stuhlbarg will break your heart in a father/son scene that champions Robin Williams' "It's Not Your Fault" moment in Good Will Hunting (this is no exaggeration – the scene is an acting triumph!).
The film, however, belongs to our Elio and you should expect to see a lot of Chalamet in the months and years to come. The camera is in love with him in and the young actor confidently portrays Elio's quiet revelations of sexuality, infatuation and heartbreak as he basks in the sun-kissed backdrop. It is a beguiling and unforgettable performance, from start to finish, particularly in the remarkable final scene which left a huge impact on me long after I exited the theatre.
Call Me By Your Name is one of the finest pieces of cinema in 2017 and I expect it to lead the nominations race once they are announced.
---
I, Tonya
Predicted Nominations:
Best Actress; Best Supporting Actress
Next up is I, Tonya, the black comedy biopic of notorious American ice skater, Tonya Harding, who was famously linked to the attack on the rival skater, Nancy Kerrigan. The movie received plenty of buzz at Toronto when it premiered in August and is scheduled for a timely release in late 2017- early 2018 (date to be confirmed at time of post).
Margot Robbie takes the lead as the troubled ice skating star who dealt with years of abuse from those closest to her, her mother (Alison Janney) and husband (Sebastian Stan). This 'mockumentary' is structured around a series of interviews with the key suspects and their involvement in the infamous 1994 attack, plus those who knew Harding throughout her rise to stardom, and unfortunately, her fall from grace.
Robbie delivers a strong performance here and makes the audience empathise with the one time 'most hated person in the USA', and director Craig Gillespie plays with this idea throughout the film, often breaking the fourth wall as Harding takes a sarcastic 'aside' to the audience.
Alison Janney is comic gold and despite playing the unlikable and abusive Mother, LaVona, you can't help but enjoy every minute she appears on the screen. During a lull in the middle of the movie, LaVona spouts, "Well, my storyline is disappearing right now. What the fuck!" – the audience can't agree more!
This year we have seen some strong comedic supporting actress roles (Holly Hunter in The Big Sick comes to mind) and I will be shocked if we don't see Janney's name announced come nominations day for this stellar performance,
Accompanied by epic needle-drops (GLORIA!), lively performances and a wacky backdrop, I, Tonya is a fun adaptation with a lot to enjoy and plenty of sass.
---
Mudbound (Reviewed in my London Film Festival post – here)
Predicted Nominations:
Best Picture; Best Director; Best Screenplay; Best Cinematography; Best Supporting Actress; Best Supporting Actor
---
The Big Sick (Reviewed in my August favourites post – here

)
Predicted Nominations:
Best Original Screenplay; Best Supporting Actress
---
Battle of the Sexes (Reviewed in my London Film Festival post – here)
Predicted Nominations:
Best Actress
---
Dunkirk (Reviewed in my Dunkirk post – here)
Predicted Nominations:

Best Picture; Best Director; Best Cinematography; Best Visual Effects; Best Original Score
---
In the coming weeks, I intend to see the following films which have also gained plenty of awards buzz. I look forward to sharing my reviews with you soon:-
The Florida Project (dir. Sean Baker)
Darkest Hour (dir. Joe Wright)
Lady Bird (dir. Greta Gerwig)
Get Out (dir. Jordan Peele)
Three Billboards Outside Ebbing, Missouri (dir. Martin McDonagh)
---
What are your predictions and do you agree with my choices so far?
Tell me your thoughts in the reply box below (past the ads!)