In just a week and six days (but who's counting), I will be jetting off to my dream holiday destination of California. To say I'm excited is an understatement. Over the past five months of preparation, my poor boyfriend, family and friends have heard me chirp on about nothing else and I have been making the most of these final stages by organising my holiday wardrobe (I may have already packed in sheer eagerness), confirming my restaurant reservations, creating our road trip playlist and immersing myself in all things Cali.
To truly get into the holiday spirit, I like to watch films set in the locations I am visiting. For example, before flying to Vietnam, I watched "Good Morning Vietnam" and prior to a trip to Colombia, I exposed my boyfriend to the eighties gem that is "Romancing the Stone".
Nothing captures the essence of a location more for me, than a movie and with so many inspiring titles to choose from for this year's trip, (well it is the home of Hollywood after all), I have reduced my list to five quintessential California favourites.
Here is movie number one.
Clueless (1995)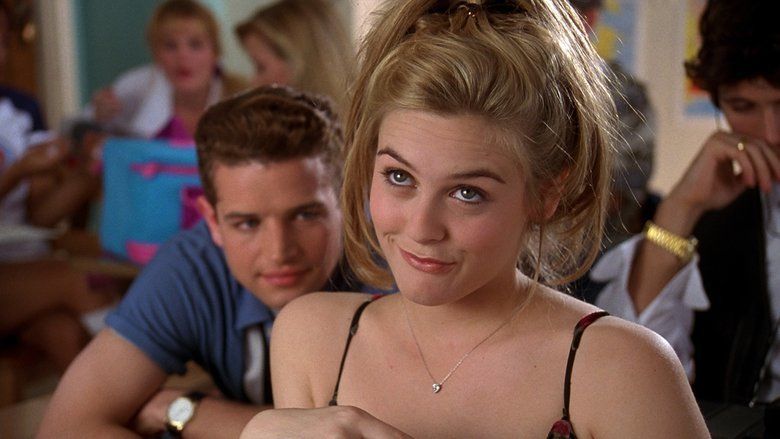 A movie that inspired a generation of girls to wear plaid mini skirts, write with fluffy pens and decorate their vocabulary with phrases such as "Whatever!" and "As if!", the colourful teenage comedy "Clueless" was a cultural phenomenon when it came to the big screen in 1995. Inspired by the Jane Austen's, "Emma", it tells the story of naive sixteen year old, Cher (played fabulously by Alicia Silverstone) growing up in Beverly Hills and navigating her way through high school whilst maintaining her social status and relationships.
Despite starting the movie as a superficial princess, Cher is vulnerable and completely wins the audience over with her charm and sparkle. When she starts to fall for flamboyant student, Christian, we understand why he would catch her eye over the other boys in school.
"So okay, I don't want to be a traitor to my generation and all but I don't get how guys dress today. I mean, come on, it looks like they just fell out of bed and put on some baggy pants and take their greasy hair – ew – and cover it up with a backwards cap and like, we're expected to swoon? I don't think so."
Christian is intelligent,well-dressed…and unfortunately for Cher, same sex orientated. As she falls hard on her luck, Cher reveals her compassionate and caring side and thus, becomes even more lovable.
The movie includes brilliant supporting roles and early debuts from "Ant Man" himself, Paul Rudd, "Scrubs" Donald Faison and a young Brittany Murphy as the impressionable Tai.
The fashion is iconic (and has come around full circle as nineties trends hit our stores once again), the script is witty and the concept, penned by "Fast Times at Ridgemont High" director Amy Heckling, still feels fresh today, over twenty years since it's original release.
For a young girl who grew up in the nineties, "Clueless" is 100% required watching before taking my first steps on to Rodeo Drive.
Now,  "do you prefer "fashion victim" or "ensembly challenged"?
 My next pick is "Sunset Boulevard"- Coming soon to a blog post near you!