So I have a confession. Until very recently, I had never seen "Trainspotting". I know- shameful! In my defence, the original movie was released back in 1996 and I was more of a Gina G kind of kid than a fan of Underworld.  Never the less, my boyfriend thought this was shocking and twenty years later, we sat down and enjoyed this classic movie for the nineties 'Brit Pop' generation. The familiar tune of "Lust for Life" by Iggy Pop blared out, Ewan McGregor was racing through the streets of Edinburgh, choosing life and I was hooked.
"T2: Trainspotting" is a worthy sequel to it's predecessor, and conveys a cynical look at today's society with the inevitable fear of ageing and not leaving behind a legacy.  The movie continues from where the original left off. After achieving the drug heist of their lives, Renton (Ewan McGregor) betrays his friends, Begbie (the scene-stealing Robert Carlyle), Spud (Ewen Bremner) and Sick Boy (Jonny Lee Miller), by stealing the £16,000 reward and disappearing. It is now twenty years later and a mid-life crisis has brought him back to Scotland.
Renton returns to a bitter welcome after twenty years of resentment which has built up between the once close friends. What follows is an action-packed story of betrayal, forgiveness, friendship and nostalgia that some characters struggle to let go.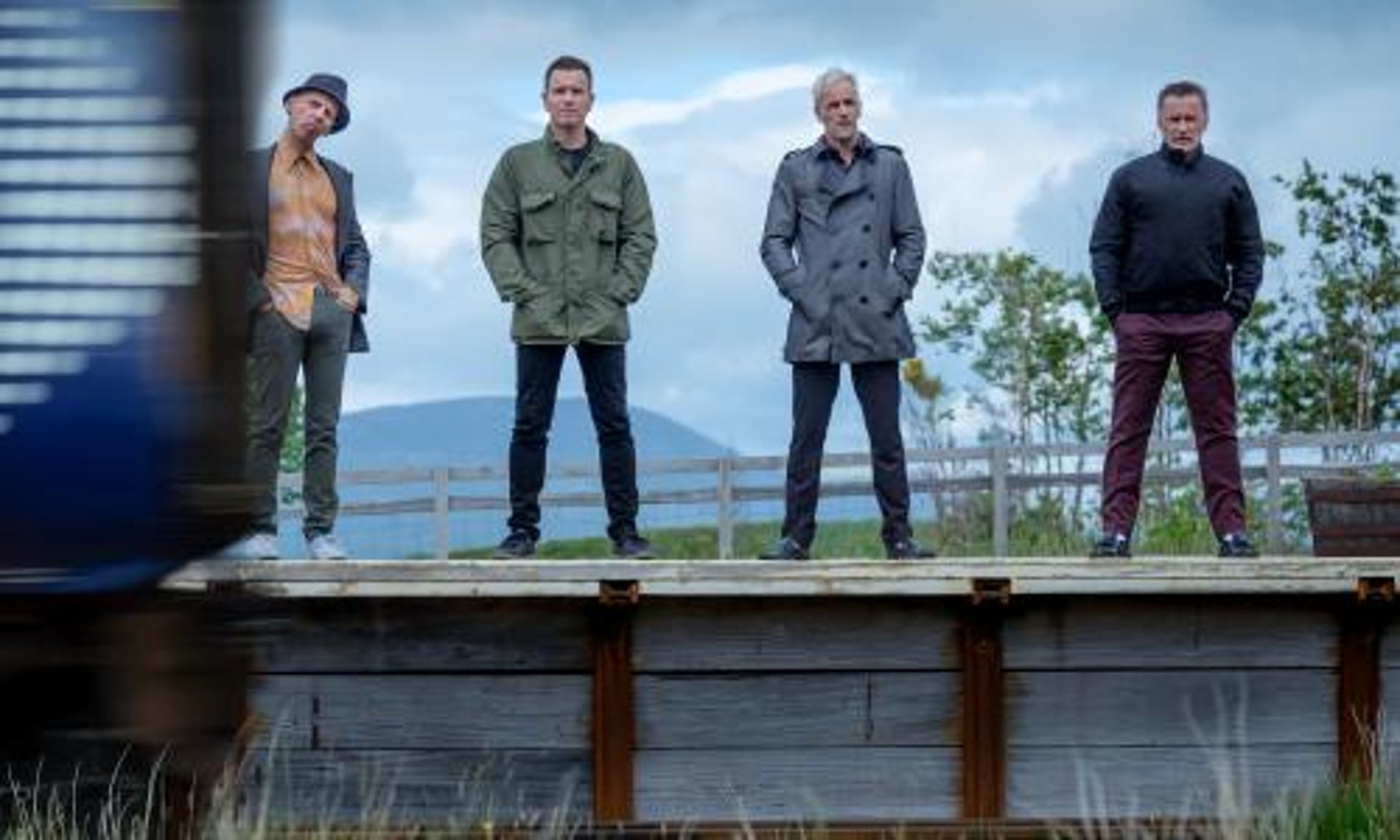 Despite having top billing and being our protagonist, I felt that Renton's story was slightly disappointing and moments, with his father in particular, could have been developed further. That being said, when McGregor delivers his 2017 rebooted "Choose Life" monologue ("Choose Facebook, Twitter, Instagram and hope that someone, somewhere cares. Choose looking up old flames, wishing you'd done it all differently. And choose watching history repeat itself") we remember why we fell in love with his character and got behind him in the first place- even if he is a bit of a deceitful, selfish, cowardly……you know what!
In my opinion, the stars of this film are Spud and Begbie. Spud goes on a terrific emotional journey this time around and the audience warm to him instantly. The heart and soul of the story stems from him and Ewen Bremner plays this gormless, childlike character with perfection. After making some terrible life decisions, Spud starts to turn his life around in the hope of a brighter future and possible reconciliation with his estranged family.
Robert Carlyle once again plays the psychopathic Begbie and has a great character arc to work with. Having been in and out of prison over the years and with the return of Renton, Begbie sets himself up for a final showdown with his estranged friend. A club bathroom scene where the two characters reunite is set up exceptionally by Danny Boyle and builds up an appropriate amount of tension with an element of farce. Carlyle plays the role with enormous energy and demands attention from every scene he is in. His performance is a lot of fun to watch!
There is no doubt that "T2" is Danny Boyle's baby. From his stylish direction, including effective flashbacks and luminous colour usage, to the banging soundtrack which pairs this new movie with the original nicely. A revamped version of "Born Slippy" is used for maximum impact and modern needle-drops by Wolf Alice and Young Fathers ("Only God Knows"– absolute belter of a song which I can't seem to stop listening to!) are introduced to allow the film a chance to reinvent itself for its modern audience.
Boyle waited a long time to bring these characters back to our screen, but with "T2", he has not disappointed the legions of fans who have grown up alongside this seminal classic. He celebrates the original and his love for Edinburgh, whilst securing the sequel's own identity as a stand alone feature.